Presidents Message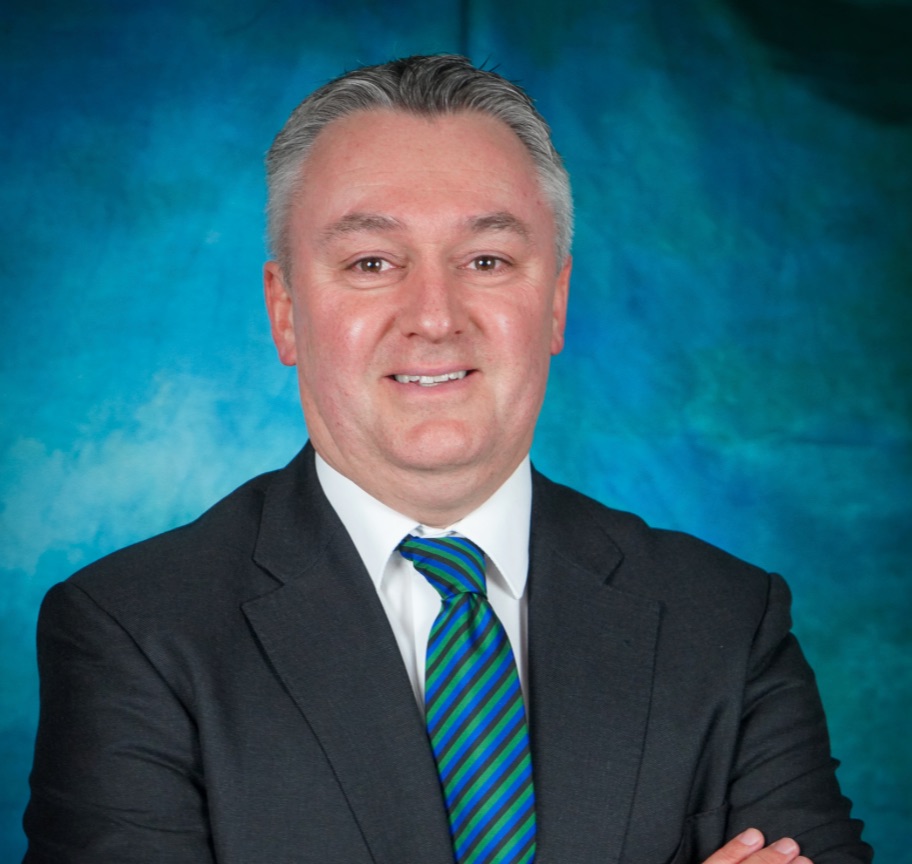 Here we go – Season 2023 / 24
Greetings to all members and supporters and welcome back to another year of rugby in Seapoint. This year we celebrate a special milestone, 90 years in existence as a rugby club. I hope everyone has had an enjoyable summer and have recharged the batteries for what is shaping up to be another packed season ahead through every squad from the 1st XV down to the under 7s in the club.
I would like to thank the membership for the opportunity to serve as your president for the season ahead. I would also like to thank outgoing President Barry Chadwick for his work, optimism and joviality not only over last season but over his time since he joined the club, he moves onto another important role as joint manager of our Under 20 squad alongside his long-term side kick, Shane O'Donovan. A hard act to follow but I'll endeavour to. Many thanks on behalf of the entire club, Barry.
Ongoing Works
I noted in my notes a couple of weeks ago that the works on Pitch 2 were about to start. This week they have commenced, the contractor has made good progress in the first few days with the surface being completely stripped away. Photos attached show progress and we will keep a photo montage as the project progresses over the next few months.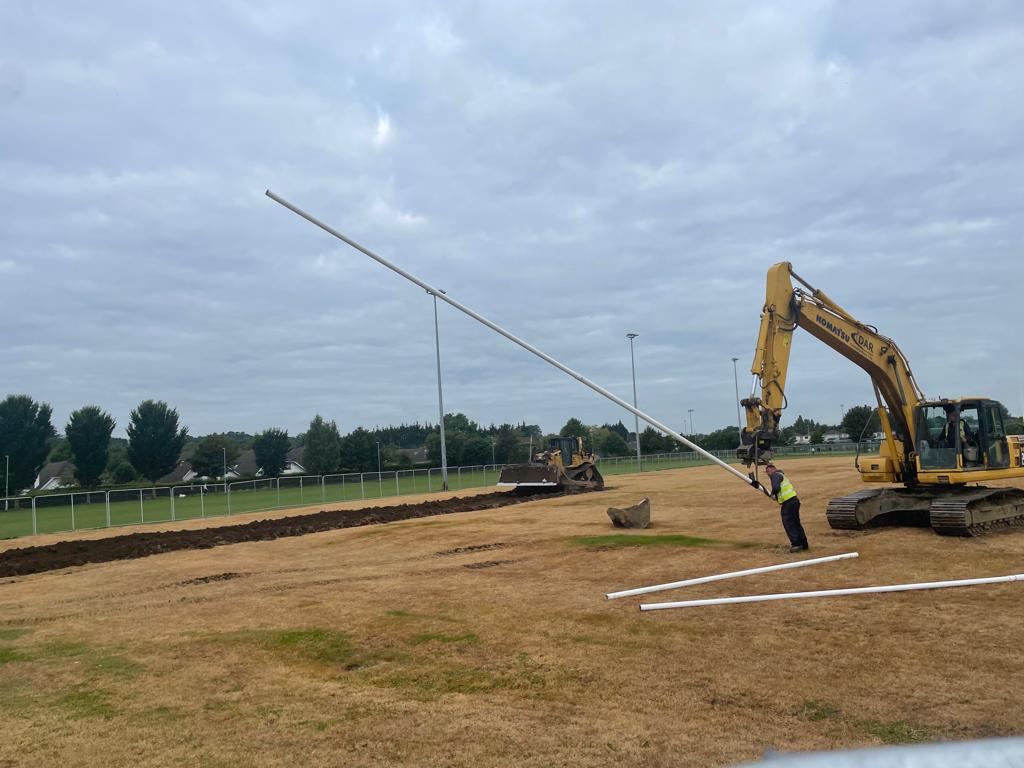 At this stage, I would like to express our gratitude to our neighbouring clubs who have agreed to facilitate us over the next 9 – 12 months with use of their pitches whilst our Pitch 2 is being redeveloped. Thanks must go to John O'Donnell among others for his work on this.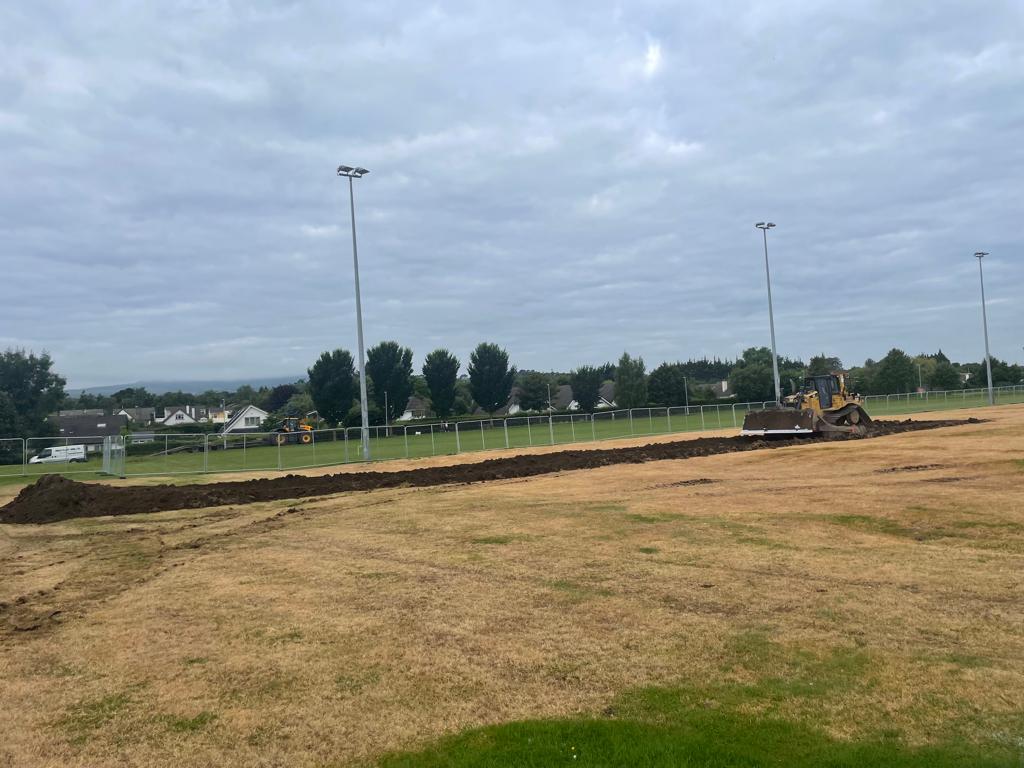 Volunteers Night
On Friday night next, 25th August, we will hold a pre-season night for all mini and youth coaches and team admins. This will be a chance for the club to say thank you to them for all the time they dedicate to the younger members of our club. It will also give them an opportunity to swap and share their knowledge with each other over a few drinks.
Rugby (Senior)
The season officially kick off next Saturday 26th August when the 1st XV take on Suttonians at home (kick off 3pm) in the Spencer Cup. All support welcome.
The 2nd XV commence the following week, Saturday 2nd September, against Monkstown at home (kick off 3pm) in the Jim Byrne Cup and the 3rd XV starting their season against BGF Ravens on Saturday 9th September away (kick off 12noon).
The fixtures as currently known are on the club website – these are subject to change, so keep an eye for any updates or changes.
The numbers at training have been strong and we look forward to the season ahead with hope and optimism.
Zac Jungmann continues as Club Captain, the Senior Squad (1st & 2nd) is coached by Adam Philpott, Conor Montayne and Darragh Forster, our Senior team management includes Declan Keegan and Eoin Finnegan ably assisted by Sean Montayne and Harry Finnegan. The 2nd XV is captained the season by the other Conor Montayne.
The 3rd XV is managed and coached by our very own three musketeers, Donal Fitzgerald, Damian Clarke jnr and Rory O'Connor and the team is captained by Joe Joyce.
Rugby (Under 20s)
The U20s are coached this season by Daragh Mullins and Peter Lyons and managed by Barry Chadwick and Shane O'Donovan. The numbers at training are strong and are a reflection of the strong work done over the last few years at both under 20 level but also a reflection of the players coming through from our youth set up.
New players at all levels from under 20s to 1st XV are always welcome in our club so if you know anybody looking to join or switch clubs, they will be welcomed in traditional Seapoint fashion and they can make contact with any members of the Rugby committee at rugby@seapointrugby.com
Rugby (youth and minis)
Graham Byrne has taken over as head of MY Section from Sean Burke, he is ably assisted by a cast of over 100 + coaches / assistant coaches etc covering all the grades from Girls and Boys sections. After 8 seasons at the helm of the Girls Section, Gerry Owens has handed over the reins to Martin Ridge to continue all the great work in that area.
To both Gerry and Sean a huge note of thanks for all their work.
Return to Action – Sunday 3rd September for all the youth and minis teams.
I look forward to witnessing the fun, smiling faces and skills of all our younger members (both girls and boys) that light up Kilbogget Park every Sunday morning and some nights during the week throughout the season.
Last but no means least, our famous Dragons teams. They have their first game of the season, away v Barnhall Buffaloes on Sunday 3rd September. Training commences the following Sunday 10th.
I would like to wish all age grades, categories, squads, teams all the very best for the season ahead and let's take pride in the black, blue and green and our club both on and the pitch, we are planning to field across all levels and age grades again this season. This is a huge achievement and is down to dedication by players, coaches, committee members, supporters, parents, facilities, sponsors and most importantly a hugely welcoming environment for the players.
All Rugby in the club is overseen by our hardworking rugby committee led by our Director of Rugby, John Montayne and also includes the experience of his predecessor, Brian Montayne.
Clubhouse
The members will see that work continued in the off season particularly in the Clubhouse with the interior upgrade virtually complete. Many thanks must go to Karen Chamberlaine, Alan Finnie, Graham Byrne and our new head of facilities, Eoin Finnegan and lots of others in this regard.
Members are encouraged to utilise our fabulous clubhouse for functions such as birthdays, special family occasions etc. Our Clubhouse makes a fantastic venue for whatever you want to celebrate.  Birthdays, Christenings, Communion / Confirmations, charity events – we've even had a couple of weddings! This is your club, please take advantage of the superb facilities that we have.
If you want to book the club for a function, please contact our bar manager, Alan Finnie at 086 3843190 and he will be more than happy to assist you.
We also have our coffee shop "the ruck" open at the weekends. This has been an excellent addition to our facilities and a great cup of coffee also. There are so many names who have made our clubhouse into what it is over the last few years as we have invested in the facilities which will be enjoyed by the members for years to come. We thank them for their work as their efforts are there for everybody to witness.
Volunteers
As you can see our club continues to grow and with that comes the need for additional volunteers across all areas. If you have a spare hour or two apart from game time, please do step forward and let us know. As the old saying goes 'many hands make light work'. All skillsets welcome – there is plenty to go around both on and off the pitch – so do get involved.
We have a specific requirement currently for volunteers in two specific areas,
Sponsorship & Fundraising;
Communications. If you would like to contribute, please reach out and your contribution to those two areas will be both appreciated and welcome.
I am very much looking forward to the season ahead
Yours in rugby
Karl O'Neill
President