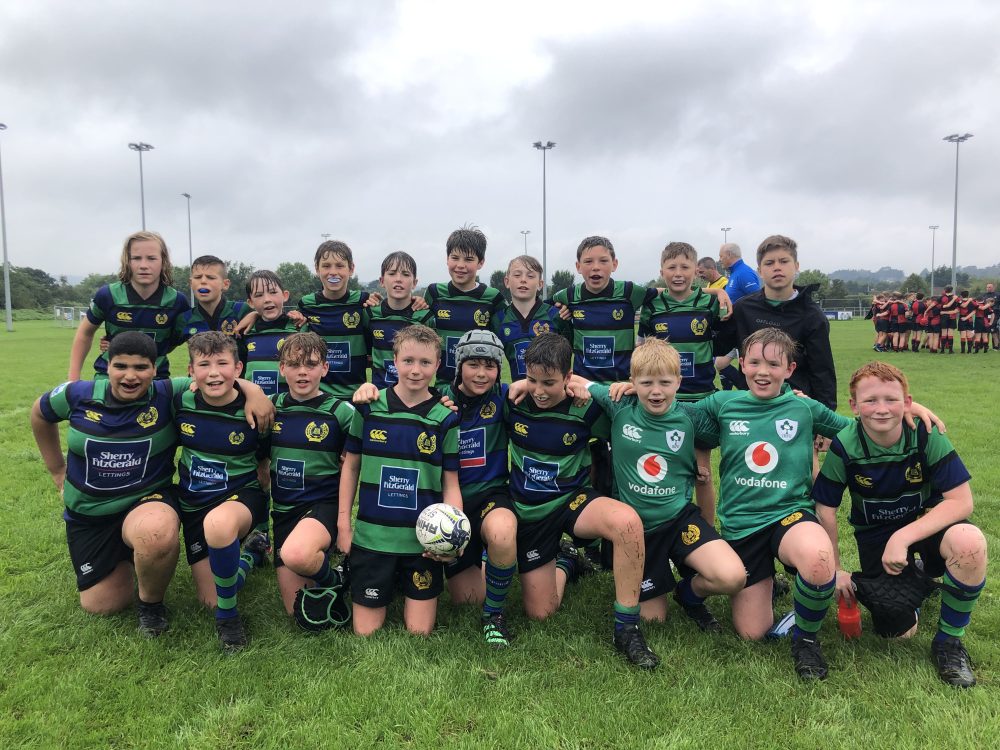 Seapoint U13s claim first win of new season against Coolmine
Positive start to 15-a-side, full pitch rugby
17 Sep, 2023 @ Fortress Kilbogget
A grey and wet start to the morning couldn't dampen the enthusiasm as one of the two Seapoint U13 squads took to the pitch at Kilbogget for their first grading game of the 2023/24 season.
For most of the team this was their first taste of full pitch 15-a-side rugby and they took to it like ducks to water.
Despite some last minute withdrawals due to injury and illness as well as the challenging conditions underfoot and a greasy ball, Seapoint got to work from the off with some lovely hands and powerful running.
The forwards set down an early marker with a well worked try after 8 minutes, Eoghan Collins powering over on the left.
Four minutes later, some great defensive pressure and Trojan work in the ruck helped Seapoint end a determined Coolmine attack, wining a turnover before some quick passes and support play saw the ball find it's way out to Tom Casey who ran a great line out wide to cross for Seapoint's second.
Another followed on 20 minutes as a long pass out the back from halfway found it's way safely to Ross O'Donnell who switched on the afterburners to dot down to make it 15-0 and close out the first half.
The boys caught their breath at halftime after a positive first-half display. While not without errors, a clear team effort saw some great communication, a well-organised defence and smart rugby being played.
As the second half got underway, the old adage that the forwards win the game and the backs decide by how much was never more appropriate.
And the backs were hungry.
Soaking up the pressure, Seapoint held the line and strong tackling caused Coolmine to cough-up possession. Seapoint pounced on the loose ball with Amaury Journee McKeown gathering it to throw a skip pass over the top once again into O'Donnell's waiting hands who turned on the pace from inside his own half, beating several defenders to once again cross the whitewash for his second of the day with Tom Quinn adding the extras with a fine conversion to make it 22-0 with 12 minutes to go.
The Kilbogget faithful helped keep the energy levels up from the sideline even as the rain came down and motivated the boys to dig in and keep a probing Coolmine attack at bay.
Despite the scoreline and mounting injuries, Coolmine never dropped their heads and kept fronting up to Seapoint with some impressive rucking and counter rucking but with the ball in hand just couldn't find any daylight in a solid Seapoint defensive line.
Five minutes later, Coolmine had a scrum put-in but an increasingly dominant Seapoint scrum put the scrumhalf under pressure to get the ball away. With a rush defence, Coolmine spilled the ball which was gathered by Sean Cosgrave (who had a great morning in attack and defence), feeding Luca Leech who spun a pass out to Amaury. Spotting a gap, he changed his line of attack, cutting back inside and stepping several defenders before touching down for a well-earned try. He was unfortunate not to convert his own score, the ball just bouncing back off the wrong side of the far upright.
The Blue, Black and Green continued to push forward and some smart play with a cross-field kick almost had Sean Cosgrave score in the dying seconds for what would have been a well-deserved try but Coolmine, determined to the last, just about managed to deny Seapoint a final score.
The ref blew time and Seapoint had a deserved maiden victory at Youths level, a clean sheet and a great start to their grading matches and 15-a-side careers.
3-2-1-Seapoint!