'Felix was told he needed to go to a bigger club… He said he was playing for Seapoint'
Seapoint RFC are proud of their most famous son and their ongoing status as a senior club. 8th Oct 6th 2018, 7:00 AM
WHILE MUNSTER'S CLASH with Leinster this evening will be dominating his thoughts for the day, Felix Jones might take a moment later tonight to check on Seapoint RFC's result against Midleton.
Jones' home club started their All-Ireland League Division 2C campaign with a defeat away to Thomond last weekend but will be hoping for better at home in Kilbogget Park this afternoon [KO 2.30pm].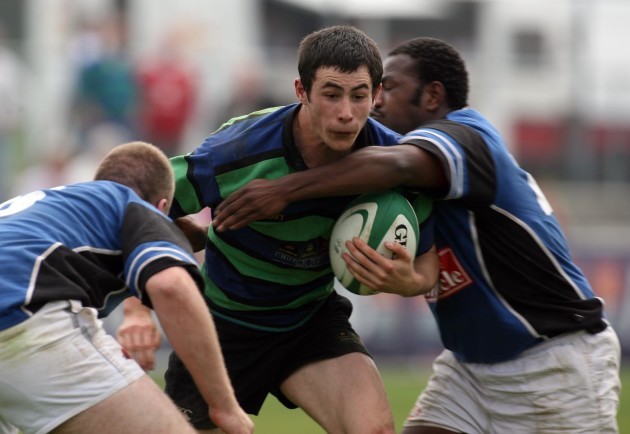 LORRAINE O'SULLIVAN / INPHO Jones in Seapoint colours in 2007.
Jones' rugby journey has led to his current role as Munster attack coach but it all began at Kilbogget Park when he joined Seapoint's minis, his father Alfie having served as president and remaining involved in the club to this day.
Such was Jones' love for the south Dublin club that he continued to play for them in his U20 year when he was being advised to the contrary.
"Felix was told that in order to progress his career, he needed to go to a bigger club," recalls Jimmy McKeever, whose lifelong love affair with Seapoint RFC has seen him captain various teams and take up every role imaginable, including the presidency.
"He'd gone to school in St Andrew's but he said, 'No, I'm going to play for Seapoint.'"
Jones did end being a dual status player with Old Belvedere but he continued to shine for Seapoint as an emerging talent, winning the All-Ireland Junior Cup in the black, blue and green jersey in 2007, the same year he helped the Ireland U20s to a Grand Slam.
"I remember the first match he played for us at senior level against Monkstown," says McKeever. "He looked like a child almost and one of their wingers took off and we thought this guy was definitely going in to score, he was moving like Linford Christie.
"Felix was doing this kind of stallion thing on the spot, then he suddenly ran and tackled your man and your man goes up in the air and into touch. I'd never seen anything like it in my life! I think Felix is just so unique."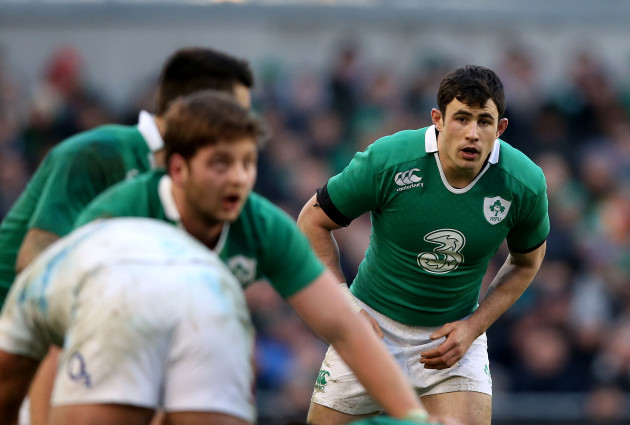 DAN SHERIDAN / INPHO Jones went on to play for Ireland before being forced to retire and moving into coaching.
Even after his career took off with Munster and led to Ireland honours, Jones retained his grá for Seapoint and the club cherished him as their pride and joy, delighting in his visits home.
When he returned to help with some coaching even before injury curtailed his playing career, Seapoint could see that Jones had a bright future whenever he did hang up his boots.
"He's made for coaching," says Martin Shelley, who does video analysis for Seapoint's senior team. "He has such high standards. He has a presence and he's so focused.
"He took me for an hour on video analysis stuff and showed me what I needed to be looking out for. He's a modest man but he really has high standards."
Jones is not the only high-achieving son of Seapoint, with former Leinster hooker and current Ulster coach Aaron Dundon having spent five happy years with the club.
"Aaron came in off the road at 18 having come from Christchurch in New Zealand and said he wanted to play rugby," says McKeever. "He was very quiet but a really great guy."
Ireland U20 international Mick Noone developed at Seapoint before going on to play for Leicester, Gary Foley was also an Ireland U20 cap, while current Munster academy hooker Eoghan Clarke and Leinster academy lock Jack Dunne played minis in Kilbogget Park.
Kilkenny man Peter Lydon starred for the club before his move to Stade Français, earning a nomination for Player of the Year in Division 2A of the AIL in 2013 as he gained valuable exposure to senior rugby.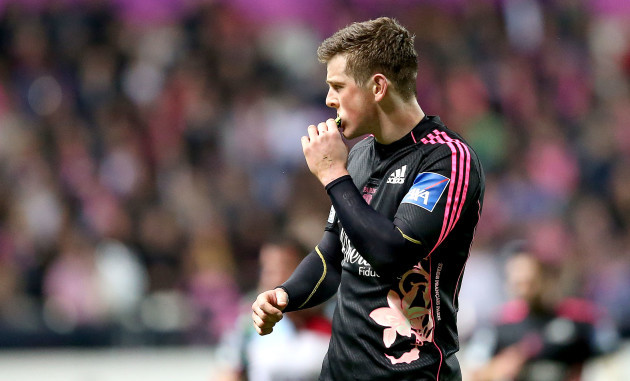 JAMES CROMBIE / INPHO Peter Lydon went from Seapoint to Stade Français.
"Peter was offered moves to Lansdowne or Seapoint and he decided he'd be better off where he was the boss," says McKeever.
"Nigel Osborne [Seapoint coach at the time] advised him to play with us and then he would get a chance to go on, and off he went to Stade Français the next year."
McKeever recalls Lydon once opting to take a shot at goal with a last-minute penalty from deep, deep inside Seapoint's half against Terenure, much to the amusement of some of the visiting support.
With the notorious Kilbogget Park wind behind him, Lydon proceeded to hammer the ball between the posts and McKeever enjoyed bragging rights in the clubhouse for the night.
When we speak, McKeever's tie bears a Martello Tower, part of the club badge and reference to the structure in Seapoint, the area between Blackrock and Monkstown.
The rugby club was founded in 1934 by "a loads of girls and a load of guys" from Seapoint and spent years being seen as nomadic as they jumped from ground to ground, until settling at Kilbogget Park 40 years ago.
Seapoint was a junior club for most of its life – enjoying a first big trophy success in 1973 with the prestigious Spencer Cup – until the emergence of a team they like to call the 'galacticos' in the early 2000s.
Built around the brilliant out-half Brian Keegan – son of club legend Declan – the team rose through the ranks to senior level, where they helped Seapoint to three Metropolitan Cups – a fine achievement for a junior club – the aforementioned All Ireland Junior Cup, and then on into senior rugby.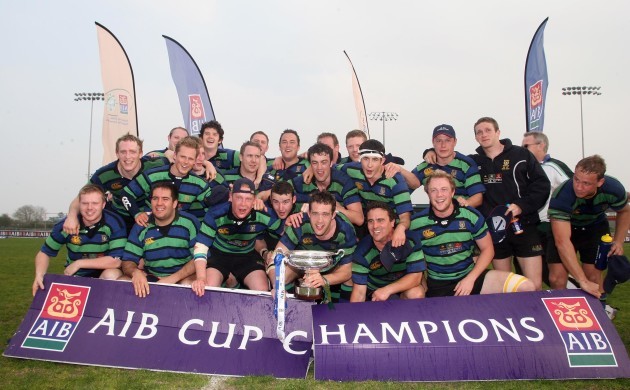 LORRAINE O'SULLIVAN / INPHO Seapoint celebrate their 2007 success.
In their first season of Division 2B of the AIL, the 'galacticos' were promoted again and though 2A proved to be the peak, they were thrilling years for the club.
As with almost every other club in Ireland, Seapoint have challenges these days, most notably in retaining players at U20 level, with fierce competition around Dublin and the natural drop-off at that age grade.
Still, they are passionate and, as Shelley puts it, "We're really, really proud of being a senior club."
Former Ireland and Lions international Eric Miller is head coach of the first team and tasked with ensuring Seapoint remain part of the AIL, with the side built around the fulcrum of out-half Bain Champion.
"Eric has got very high standards and he's the best coach I've ever worked with," says Shelley. "His attention to detail, his planning, he's just so organised."
The club has around 450 minis playing each year and runs a huge annual festival at that level, while the U18 side won the Leinster League last season, with Leinster U19 player Matt Jungmann featuring prominently.
Seapoint host Leinster Rugby summer camps each year, while their 'Give It a Try' programme for young girls was a success over the summer.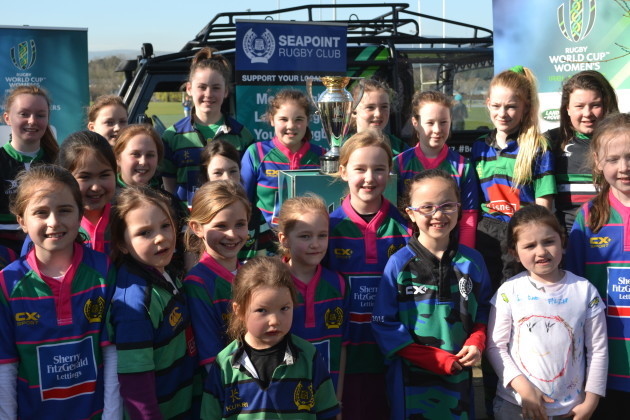 SEAPOINT RFC There is great pride in the girls' section of the club at Seapoint.
With the clubhouse having been redecorated recently, the changing rooms refurbished and €150,000 spent on upgrading the pitches, Seapoint are hopeful that their future is bright and many more stars like Jones will come through the ranks.
As importantly, they want to continue to provide a social and fun home for every player and supporter they can.
"We'd welcome players with open arms to one of the friendliest community clubs you could find," says Shelley. "The rugby that our lads play under Eric is a great brand of rugby.